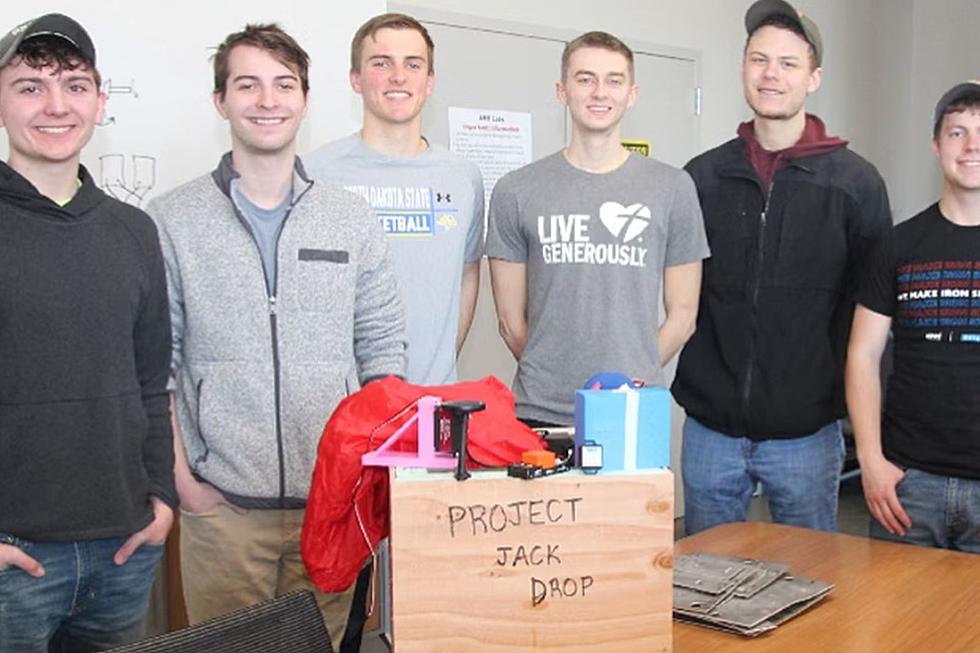 Six SDSU Students to Participate in Contest for NASA
Dakota News Now (with permission)
It's always nice when people right here in the Sioux Empire get acknowledged for doing something that's significant and innovative.
And that is exactly what has happened again. A team of six senior mechanical engineering majors from SDSU have been selected by the National Institute of Aerospace to be finalists in a data recovery challenge for NASA that will pit them against teams from five other schools from around the nation.
These six smart cookies will be competing in something that's being called the "FLOATING DRAGON Challenge."
As Dakota News Now reports, that is what NASA is calling its Formulate, Lift, Observe, And Testing; Data Recovery And Guided On-board Node (FLOATING DRAGON) Balloon Challenge.
Just saying that the full title alone is a big enough challenge for me, I can't imagine possessing the intellect to make the concept work.
According to Dakota News Now, the South Dakota team is comprised of seniors Ben Brainard from Prior Lake, Minnesota, Braydon Crawford from Flossmoor, Illinois, Adam Forman from Pierre, Zack Strong from Britton, Evan Talcott from Brandon and Brett Wartner from Marshall, Minnesota.
These six gentlemen are being tasked with autonomously detaching a 1-kilogram data recovery vault from a large balloon 120,000 feet in the stratosphere and safely steering the box back to a designated landing spot here on Earth undamaged.
Piece of cake, right? What else would you like us to do?
These six SDSU seniors were selected from a very competitive field of candidates to compete in this highly skilled challenge.
It sounds like our SDSU men have their work cut out for them, as they will be competing against other teams from the likes of Princeton, Purdue, the University of Texas, the University of California-Davis, and Notre Dame. An impressive lineup of schools that are all well-known for their engineering programs.
Here's what's really cool, as Dakota News Now reports, NASA is hoping to use the technology developed from the winning FLOATING DRAGON system as part of one of its balloon launches in early 2024.
The project the SDSU team is developing is called "Project Jack Drop", a concept the six seniors began constructing last August. They now have until August 15th of this year to design and review their entry project before the testing period begins at Fort Sumner, New Mexico.
The South Dakota team will be issued their flight data in October, and according to Dakota News Now, the team will use that to help construct a final technical paper they need to submit at the end of the year.
The FLOATING DRAGON challenge wraps up in January of 2024 when NASA will meet with all the individual teams participating in the competition.
Best of luck to all six of our SDSU seniors!
Source: Dakota News Now
11 Famous People from South Dakota
OK, so we're not Hollywood, but there are a number of famous people who were born in the Rushmore State. Here's a list of 10 famous people who were born in
South Dakota
!
10 Highest Paying Jobs in Sioux Falls That Don't Require a Degree
These days, workers are in high demand, and there are plenty of great-paying jobs right here in
Sioux Falls
if you know where to look.
You won't need a Bachelor's, Associate's, or any type of College Degree for these high-dollar jobs.
These high-paying gigs are just the tip of the iceberg. To see the full list of the top 50 from Stacker,
click here.