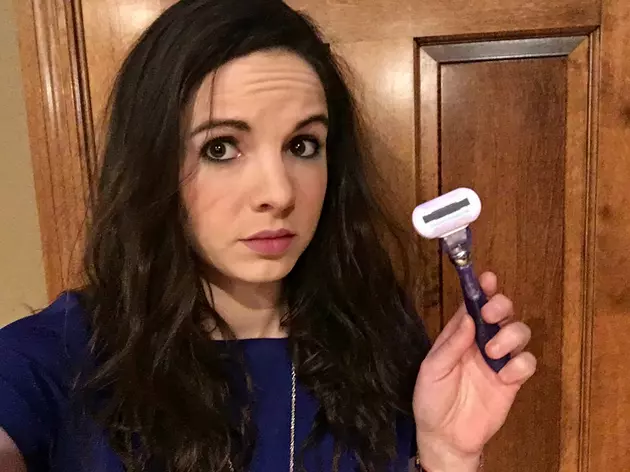 How Often do South Dakota Women Shave Their Legs in the Winter?
Kelly Nyberg
Ladies, lets face it. The fact that we have to shave our legs really stinks. I mean seriously. The amount of time it can take, along with the expense of razor blades to even perform this daunting task is truly obnoxious.
The good thing is that we have a cold-weather winter, so for about five months of the year it's a rarity that our stems are exposed to the world.
This winter is my first one back in the frozen tundra after living in California for seven years. I guess I'm adjusting alright, but I must say, the fact that my legs are fully-covered 24/7 is a relief. I actually jumped at the chance to partake in 'No-Shave November,' finishing the month with my first-ever leg wax. (Ouch! It was a pretty hilarious scene, you should probably check out the video at the bottom of the page for a good laugh)
I figured most women in the area probably feel the same way that I do, but wanted to find out for sure. So I thought, 'What the heck? Why don't I just straight-up ask people how often they shave?'
I was shocked at how many responses I got, with a few hundred un-afraid women sharing their hair habits with complete strangers.
So, just how often do women in South Dakota shave their legs during the winter? The most common answer was: ONE TO TWO TIMES A MONTH.
Lets break it down by the numbers, shall we? Here's the stats:
Daily: 13%
Once a week: 21%
Two to three times a week: 23%
Once or twice each month: 34%
Two to three times all winter, or not at all: 9%
I was surprised and totally impressed at how many of you still make sure to shave every day, whether that's full leg or just partial, from the knee down. Now that's commitment!
There were also a lucky few who said they have very fine hair that goes unnoticed, and therefore they only need to shave a few times a year. Uh, can we please trade places? And the gals who said it depends on if they're dating anyone at the time? I totally feel you on this one. I'm the same way.
The responses were so fun to read and a few actually made me laugh aloud, to myself. Here a few of my favorites:
Heather K. asked: "Do leg dreadlocks count?"
Teresa B. said: "Only when the cats stick like I am velcro."
Beth J.W. says: "When they catch on my pants and pull."
I loved your creativity in your answers, ladies. Thanks for the laughs! For more chuckles, check out the video of my first time getting waxed: