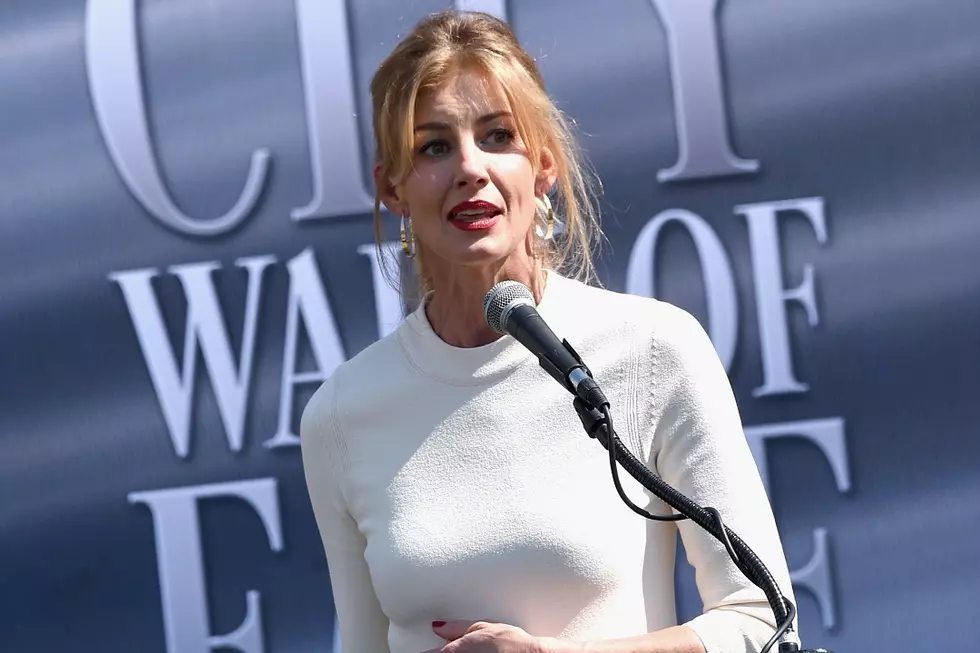 The Boot News Roundup: Faith Hill Performing at Aretha Franklin's Funeral + More
Rick Diamond, Getty Images
Welcome to The Boot's News Roundup, a morning rundown of the news country music fans need to know. Read on to learn more about the latest goings-on in the country, Americana, bluegrass and folk genres.
Faith Hill will perform at Aretha Franklin's funeral, which is scheduled to take place in the Queen of Soul's hometown of Detroit, Mich., on Friday (Aug. 31). Hill is one of 19 performers for the service; she joins Jennifer Hudson, Stevie Wonder, Jennifer Holliday and more. In 2011, Hill and Franklin recorded an unreleased duet together, which was originally set to appear on Franklin's album A Woman Falling Out of Love, according to the Detroit Free Press.
Shepard Fairey, the muralist best known for the "Hope" posters he created for Barack Obama's 2008 presidential run, has now immortalized Johnny Cash with a new mural. The the 15-story mural is in Sacramento, Calif., not too far away from where Cash recorded his Live at Folsom Prison record in 1968. In an Instagram post, Fairey describes the mural as his "most technically ambitious" to date. "I'm grateful to be able to create this image on such a large scale as a tribute for the 50th anniversary of Cash's Live at Folsom Prison album," Fairey writes. "I hope that this art will ignite a conversation around the need for incarceration reform."
Tyler Rich is set to release his self-titled debut EP in September. The four-song effort will include "The Difference," Rich's current single, and two songs co-written by Rich. "I'm beyond ecstatic to finally get my debut EP out to the world after all of the time we spent writing and creating," Rich says in a statement. "I believe these first few songs really show who I am as an artist and what fans can expect out on the road." The Tyler Rich EP is due out on Sept. 21; Rich will be out on tour this fall, supporting Brett Young on his CMT on Tour: Here Tonight outing.
Lori McKenna, Hunter Hayes and Jeffrey Steele, among others, will play the first-ever Andrew Marshall Dorff Memorial Benefit Concert on Oct. 2 in Nashville. Organized in honor of the late songwriter, the event will feature those three and more artists and songwriters performing songs written or co-written by Dorff, who died in 2016; proceeds will benefit the pediatric oncology department at the Monroe Carell Jr. Children's Hospital at Vanderbilt University. "Andrew had a gentle and open heart," Dorff's father Steve Dorff says in a statement, "and all funds raised will benefit a cause that was very dear to him." Tickets are on sale now.
Also in October, John Prine, Lee Ann Womack, Lucinda Williams and more artists will perform at Across the Great Divide, a concert to benefit the Americana Music Association and the Blues Foundation. Set for Oct. 19 in Los Angeles, Calif., at the Ace Theatre, the fundraiser will also feature performances from Doyle Bramhall II, Tash Neal, Shemekia Copeland and more, with a house band led by The Conan O'Brien Show's Jimmy Vivino. Tickets for the event are on sale now.
Thompson Square will hit the road for charity in October — but it won't be for traditional concerts. According to a press release, the band will head out for their fourth annual Rollin' for a Reason charity motorcycle ride and concert on Oct. 21. Held in Springfield, Tenn., the event will feature a motorcycle ride through the hills of Tennessee, ending at Natchez Trace Winery at Fontanel in Whites Creek. There, Thompson Square will perform to help raise cash for the United Service Organizations.