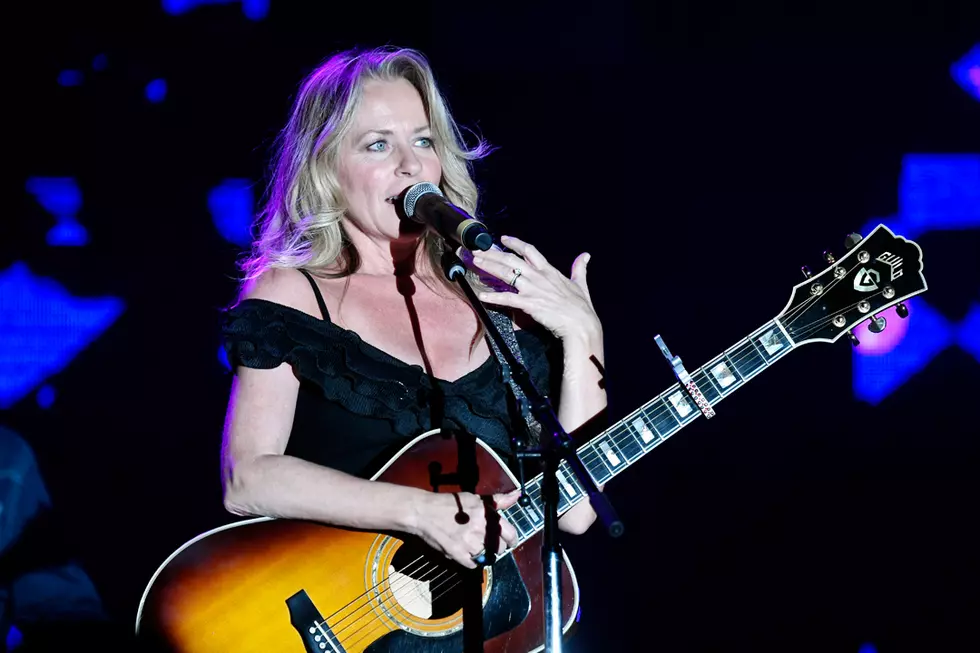 Deana Carter Looking Forward to '90s Country Reunion at 2019 Seven Peaks Festival
Frazer Harrison, Getty Images
Deana Carter is set to kick off the 2019 Seven Peaks Festival in Buena Vista, Colo., on Friday (Aug. 30), and she spoke to Taste of Country ahead of the show, sharing her excitement at getting the chance to reunite with some of her '90s country compatriots.
Carter scored the biggest success of her career with her debut single, "Strawberry Wine," which reached No. 1 when she released it as the first single from her debut album, Did I Shave My Legs for This?, in 1996. The song won a CMA Award for Song of the Year in 1997, and it was also nominated for ACM and Grammy awards for Best Country Song.
Carter is set to kick off the main stage performances at the 2019 Seven Peaks Festival on Friday at 3:40PM local time, followed by fellow '90s country stalwarts Diamond Rio, Tracy Lawrence and Travis Tritt, who is headlining the first of three nights.
Dierks Bentley organized the festival for the second time in 2019, and he shared his excitement with Carter when her performance was confirmed.
Do You Know Which Hunk Inspired Deana's "Strawberry Wine" Performance?
"You see other artists propping you up after all these years, and it's just so sweet," she says, adding, "I'm very excited about it. It's gonna be fun."
"I get to see some people," Carter adds. "You know, these artists, we don't get to see each other frequently anymore, and it's just so nice when there's a big festival and we can all hang out for a few minutes."
Carter's normal shows are what she calls "half-plugged," featuring her switching between acoustic and electric guitar and backed by primarily acoustic instrumentation. But for festivals, she employs a full band in order to better capture the energy of a festival crowd.
"It's awesome at a festival to have a little bit more of a jam band feel," she says. "My band has always had more of a rock show than not. We were rocking it out in country before most people were. The records were a little more tame, so we would make the live shows more like a rock concert. I was a classic rock fan, so it was just nice to have dueling guitar solos and stuff like that that you don't have the luxury of doing on albums sometimes. That's why festivals are super fun, to play with the audience and make it musical."
Carter and her band draw heavily from her debut album, which remains a fan favorite, for her live shows.
"It's so much fun to see '90s country as still being this deal," she says in wonderment. "It's crazy. It's mind-blowing that it's such a generational era of country music. You've got people that were little babies that now are in college. You've got people that were the parents of those babies that are now grandparents. You've got all these amazing fans that have made this music generational, and it's just so sweet. I have to pinch myself that I'm even a part of that."
Carter is not surprised that the music from that era has endured and is enjoying such a renaissance, however.
"I think the '90s, I brag on it so much, because it was the best era of country music," she says. "It has stood the test of time for the quality of the music, the diversity of the artists. The fans have never wavered. It's just amazing to be a part of that era. It keeps me wanting to do more exercise and be healthier and just stay young, so I can keep living my late 20s, because we feel frozen in time," she jokes before turning serious.
"When I look out at the crowd, I feel like I'm still there. And I think that's part of why people love it so much, because they feel the same way ... the world was kinder, calmer, it felt like back then," Carter muses. "We're going through a struggle right now, and in the times that we're in, you just have to keep being positive and prayerful and loving, and I think '90s country really helps us deal with that and get through it. That's what the country music of the '90s did. It was honest and real."
Carter and her husband, Jim McPhail, split their time between Nashville and Los Angeles, and she's also been working on furthering her acting career, doing five movies and auditioning for more. Her most recent full-length album of new material was Southern Way of Life in 2013, and she tells us she's had new music recorded for two years, just waiting for a time to complete it between her other endeavors.
"I've got new music that I'm trying to finish before the end of this year, and see what we can do with it in 2020," she says.
The Seven Peaks Festival runs from Friday, Aug. 1 until Sunday, Sept. 1. Tickets are currently available via the festival's website, including special camping and VIP options. Luke Bryan headlines Saturday (Aug. 31), with Bentley headlining the third and final night of the festival in 2019 on Sunday (Sept. 1).
Garth Brooks' Favorite '90s Country Song Is "Strawberry Wine"
Unbelievable '90s Country Facts You Definitely Didn't Know: