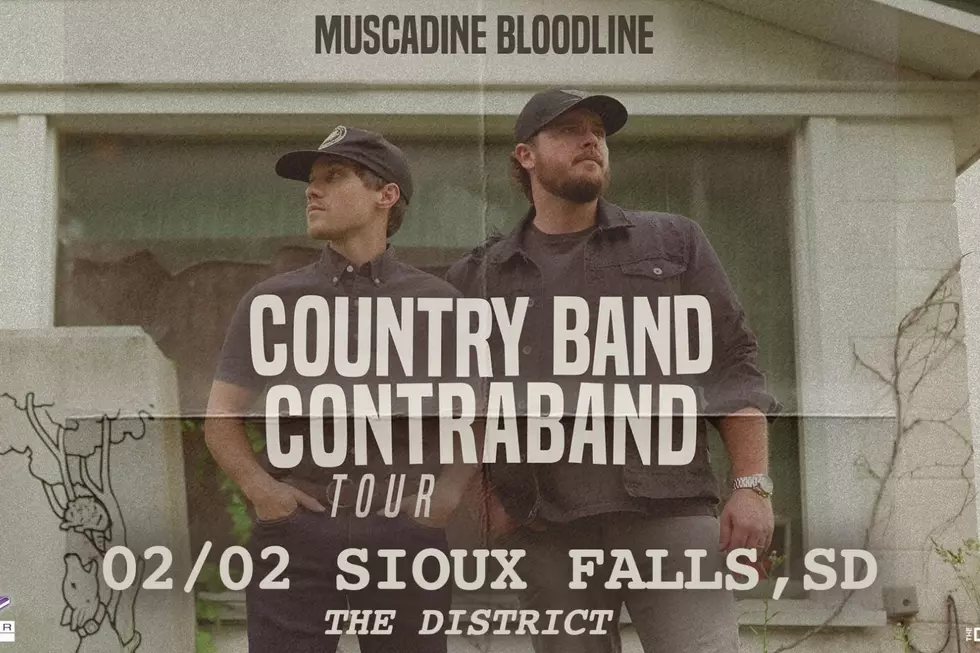 Country Duo Muscadine Bloodline Coming To Sioux Falls
Pepper Entertainment
There is another great country concert coming to Sioux Falls in early 2023. If you really love true southern country music, then you have to check out Muscadine Bloodline.
Country group Muscadine Bloodline is coming to The District in Sioux Falls on Thursday, February 2nd of 2023!
The group is taking its "Country Band Contraband Tour" to numerous cities, including here in Sioux Falls. So who is Muscadine Bloodline? They are proud to be "independent and unapologetically southern." Here is a little bit about their background from our friends at Pepper Entertainment:
Charlie Muncaster and Gary Stanton grew up in Mobile, Alabama, but didn't cross paths until they each started to pursue their musical dreams. In 2012, they forged a friendship when Stanton opened a show for Muncaster's band at Soul Kitchen in their hometown. Since naming themselves Muscadine Bloodline in 2015, the duo has charted three albums, sold-out shows across the country and played the Grand Ole Opry multiple times, hailed often as the most successful independent duo in Country music. Their Southern roots carry over to their band name as well: Muscadine grapes grow in the South while Bloodline represents their heritage.
Muscadine Bloodline has a great country sound. Listen to the group's summer hit song "Me On You." This gives you a taste of what you can expect to hear on the "Country Band Contraband Tour."
Tickets for Muscadine Bloodline officially go on sale this Friday, October 21st at 10 AM. Presale tickets also go on sale this Thursday, October 20th. However, you don't have to wait to buy tickets!
You can win tickets throughout the week with "Andy & Christine In the Morning." Listen to the morning show this week on KXRB for your chance to win tickets to see Muscadine Bloodline at The District on Thursday, February 2nd of 2023!
Sioux Falls Concerts Fall 2022-2023
Concerts are making a comeback in a huge way throughout the Sioux Empire, especially in
Sioux Falls
.
Now that the world is continuing life and adapting to the COVID-19 pandemic, artists and music groups feel comfortable enough to head back out on the road to perform. They are traveling to cities across the country including right here in Sioux Falls.
Some of the biggest names in the music industry are stopping in Sioux Falls to bring the house down with their latest hits as well as their old-time favorites.
So what concerts are happening in Sioux Falls in 2022 and 2023? Take a look at this all-star lineup to see who's taking the stage right here in our great city.
Keep in mind: Cancellations and rescheduling are common nowadays. Make sure to check with the show's venue and stay up to date on new information.
5 Things South Dakota Gave the World
South Dakota
may not get much respect. We get a blizzard and it's a footnote on the national scene, but if Florida gets a bit chilly it's breaking news. But, maybe it's fine to be forgotten about. We kind of like being left alone on our quiet piece of the plains.
South Dakota has given a lot to the world though. Not just giant mountain carvings and settings for HBO shows, but awesome things that the rest of the world should thank us for.