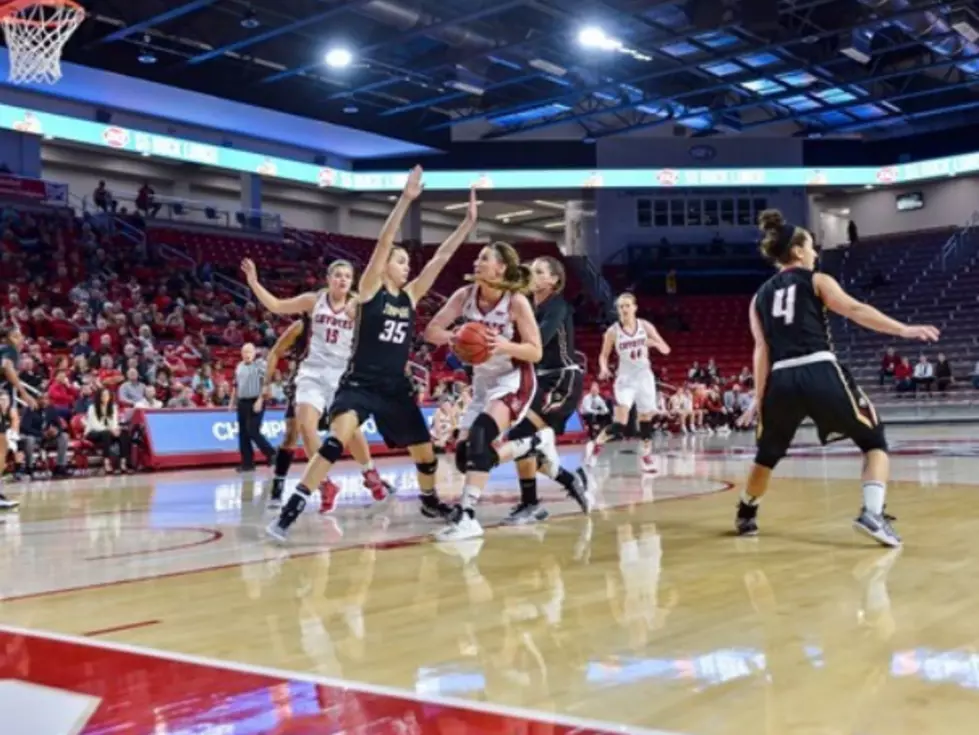 Summit League Preview: South Dakota Women at Oral Roberts, Omaha
Aaron Eckhard/University of South Dakota
As smooth as things have gone for the South Dakota women's basketball team at home this season, the road has been a mixed bag for the Coyotes, who play two away games in week three of the Summit League schedule.
USD, 9-0 at the new Sanford Coyote Sports Center, are just 3-3 away from home this season, and haven't won a true road game since before Thanksgiving.
The current road trip starts at Oral Roberts, Wednesday night.
The Golden Eagles (10-6/2-1) are one of five one-loss teams (USD, SDSU, Western Illinois, NDSU) in the Summit after two weeks. They pulled off two big upsets on the road in non-conference play, winning at #12 Oklahoma and at Arkansas.
ORU has built a tradition of strong post play and this season is no different. Junior forward Faith Ihim and sophomore forward Maria Martianez are among the top six rebounders in the league, for a team that has grabbed 40 or more rebounds eight times this season, and 61 in a game back in November. They are the top offensive rebounding team in the conference.
Offensively, they attempt more shots than anyone, and are second in scoring. Guards Lakota Beatty and Kaylan Mayberry average 30 points per game between them.
Tipoff is 7:00 PM Wednesday in Tulsa.
Saturday, the Coyotes play in Omaha.
The Mavericks (8-8/1-2) are the best shooting team in the Summit League, hitting 50 percent of better in three of their last four games. They also distribute the ball better than anyone (17 assists per game) and allow the lowest field opponents' goal percentage (36%). But they were outscored by 25 at the free throw line in a loss at South Dakota State, and committed 21 turnovers in a loss at home to Oral Roberts.
All-conference forward Mikaela Shaw is averaging a double-double, scoring 18 points a game, and leading the Summit League with 10 rebounds a game. Senior guard Michaela Dapprich is fourth in the conference in scoring, averaging 19 a game.
Tipoff is 2:00 PM Saturday in Omaha.
Last week, the Coyotes suffered their first Summit League loss of the season, falling 83-73 at North Dakota State.
The Bison came out hot, hitting four of their first six three-pointers, jumping out to an early five-point lead. They then started pounding it inside, scoring five of their next six in the paint to go up by nine. It was the third straight game USD trailed after the first quarter.
The Coyotes clawed back from a ten-point halftime deficit quickly, scoring 16 of the first 20 points of the third quarter, thanks to three-pointers from Allison Arens, Jaycee Bradley, and Kate Liveringhouse in the first seven minutes, giving USD a two-point lead.
But the fourth quarter belonged to NDSU, as the Bison outscored the Coyotes 19-6 in the first six minutes, on 8-of-11 shooting, with Taylor Thundstedt (19 points) and Sarah Jacobson (18 points) leading the way. Brianna Jones had 14 rebounds, as NDSU beat USD on the glass 47-41.
The Coyotes' Allison Arens led all scorers with 28 points.
Returning home Saturday, South Dakota bounced back with a big first quarter against IUPUI.
USD used an early 16-5 run to open up a nine-point lead after 10 minutes. With the Jaguar defense keying on stopping Allison Arens, freshman Ciara Duffy stepped up with seven first quarter points, en route to a career-high 22 points on 7-of-9 shooting. Bradley added 15, Abigail Fogg 14 in the 75-62 win.
The Coyotes finished 56 percent from the floor, and an impressive 65 percent (11-of-17) from behind the three-point line. They were also +10 on the boards (30-20).
I talked with USD Coach Dawn Plitzuweit about last week's split and this week's games at Oral Roberts and Omaha: