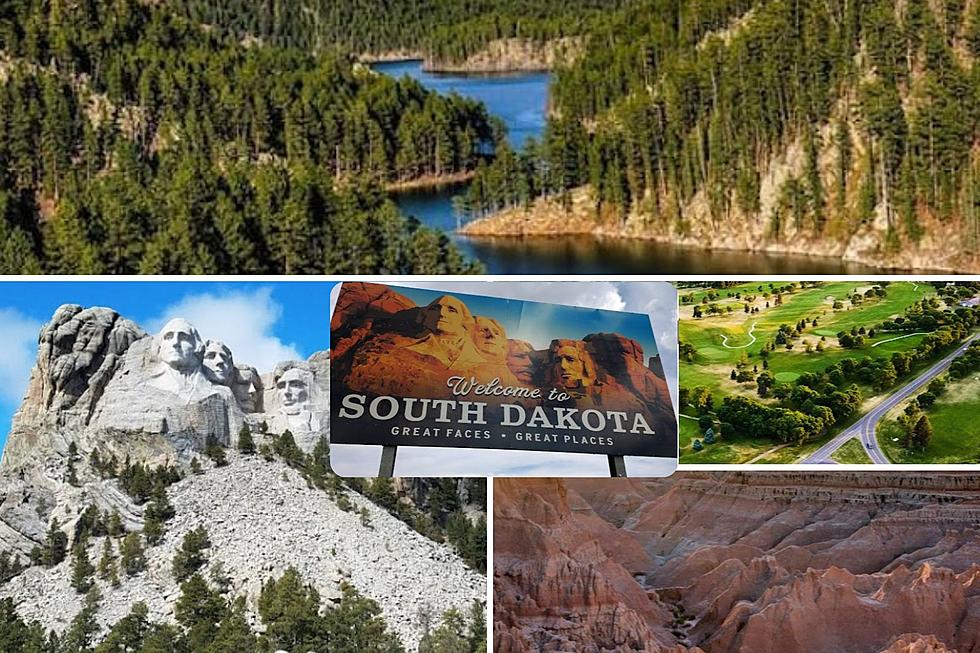 South Dakota's Top 5 Must See Vacation Destinations
Google Maps
It's no secret that South Dakota is just littered with a variety of awesome vacation spots and touristy type destinations. Need some proof, look no further than all the out-of-state license plates that can be seen on cars throughout the summer vacation season.
Whether you are into large rock carvings that feature Presidential faces, Old West 1880 towns, a giant palace made of corn, state parks packed full of wildlife, or the spectacular scenery that can be found in a wooded Western South Dakota forest, or on flatland prairies that cover the majority of this great state. Here in South Dakota, we feature a little bit of everything for everyone regardless if you're single or married with a Wagon Queen Family Truckster full of kids.
The website PlanetWare has determined the Top 5 vacation destinations you must try when visiting the Rushmore state. Miss any of these five South Dakota destinations, your Clark W Griswold Old Fashioned Family Fun meter will top out at just one this summer vacation season.
Speaking of one, #1 on PlanetWare's list will come as no big surprise, it's gotta be The Faces, right? The Mount Rushmore National Memorial is synonymous with South Dakota. It's the most prominent vacation destination in the state every year. Located in the heart of the beautiful Black Hills, when you visit South Dakota it's a given that you pretty much have to stop by and pay your respects to George, Thomas, Teddy, and Abe.
South Dakota's second must-see vacation destination is Custer State Park. Again, located in the Black Hills, Custer State Park encompasses a staggering 71,000 acres and features a wide range of adventurous terrain throughout. If you're into things like hiking, fishing, camping, horseback riding, and sightseeing, this is the South Dakota spot for you. Whatever you do, DO NOT leave Custer State Park without taking a drive on the Needles Highway.  
#3 on PlanetWare's must-see South Dakota list is the Badlands National Park. Talk about scenic beauty, this park has it, and how! Rugged rock formations are the real appeal of this South Dakota vacation destination. SPOILER ALERT, it's also not uncommon to see herds of bison roaming freely throughout the park. One thing is for certain, there is no shortage of great photo ops inside Badlands National Park!
South Dakota's fourth most popular vacation destination is none other than Falls Park located near downtown Sioux Falls. Finally, the eastern half of South Dakota gets a little love. Billed as the centerpiece piece attraction of Sioux Falls, and the southeastern corner of the state, Falls Park is picturesque, to say the least. Spanning over 120 acres, the Big Sioux River rages through Falls Park. This South Dakota park also boasts a number of awesome hiking and biking trails and a five-story observation tower that gives you an excellent view of the legendary Falls, the park itself, and the city of Sioux Falls.
And finally, topping off PlanetWare's Top 5 vacation spots in all of South Dakota is the Crazy Horse Memorial just north of the city of Custer. Carved into a side of a mountain, this western South Dakota memorial pays tribute to the famous Lakota leader. First started in 1947 the Crazy Horse Memorial continues to be a work in progress even to this day. Visitors are able to schedule daily bus rides that will take them to the base of the memorial for a face-to-face encounter with this spectacular South Dakota landmark.
Trust me when I say, these five destinations are just a very small fraction of the things to do and the places to see while visiting South Dakota. That's why the Rushmore state is known as the land of sunshine, and the land of infinite variety.
Here's to hoping you enjoy your stay in South Dakota at whatever destination the holiday road takes you this summer vacation season.
Source: PlanetWare.com
Where To Eat When Traveling South Dakota, Here's 20 To Choose From
20 South Dakota Restaurants
32 Things to Do in Sioux Falls This Summer That Are Absolutely Free!
Sure, there are tons of things to do in the
Sioux Empire
every summer, but if your entertainment budget is small (or zero), we have the solution - actually, we have lots of solutions.
Here is a list of family-friendly (and some, just adult-friendly) events happening this summer in the Sioux Falls area that you should check out. Oh, the best part, everything on this list is FREE.