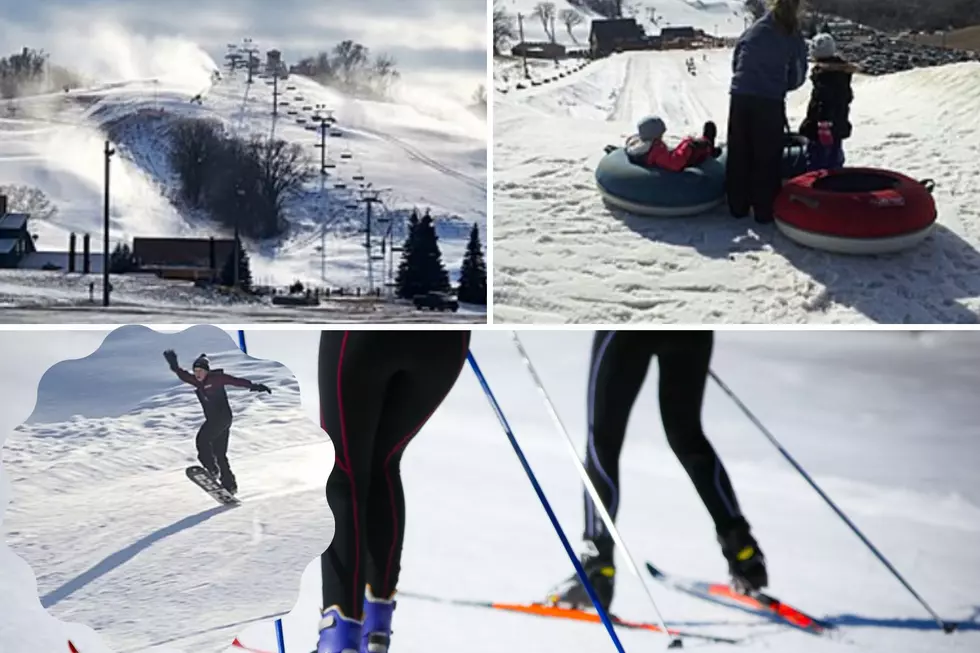 Date For "SnirtFest" 2023 Announced at Great Bear in Sioux Falls
Great Bear/Dakota News Now (with permission)/Thinkstock
Great Bear Ski Valley just east of Sioux Falls is preparing to call it a season. Although at the rate, Mother Nature is going this year, we might very well still be able to snow ski into June.
No offense to all you snow skiers out there, but I sure hope not. The spring and summer months are short enough already around here as it is.
I see this week that Great Bear did announce the date for its annual "SnirtFest" event, a day that always signifies the official end of the skiing season here in the Sioux Empire.
This year's SnirtFest is planned for Sunday, (March 26).
Both skiing and snowboarding will be available through that day. However, tubing at the park will only be available through (March 21) with limited hours.
The gang out at Great Bear call the last day of the season "SnirtFest" because the park usually has a combination of snow and dirt on the ground by that time as we make the transition from winter into spring.
According to Dakota News Now, SnirtFest 2023 will run from 9:00 AM to 5:00 PM and will feature all sorts of fun activities like, a limbo and ollie contest, a costume contest, a liquid lap, a Zipfy sled race, and a pond skim.
The entry price for each event is just $5.00.
SnirtFest 2023 is being billed as "BEARstock." The folks out at Great Bear claim the 1969 music festival, Woodstock helped to provide inspiration for the theme of this year's event.
As Dakota New Now reports, all the proceeds from SnirtFest will benefit the 12th annual Angels With a Dream, in loving memory of Roxie Johnson.
If things go as planned, and Mother Nature decides not to put away her skis for the season, Great Bear hopes to be able to sneak in a bonus ski day on Saturday (April 1).
More info on SnirtFest and the rest of Great Bear's plans can be found here.
Source: Dakota News Now
Dives Worth a Drive in South Dakota, Iowa and Minnesota
Almost every small South Dakota town has a watering hole. It's where the locals go to kick back a few brews and engage in conversation.
Some of these establishments are located in
buildings almost as old
as the town itself. There might be a fresh coat of paint on the walls or new vinyl on the booth seats, but the ambiance is still reminiscent of a good ol' dive.
If you think a "dive" is all about the sketchy clientele, the smell of the Devil's lettuce, and stale
Grain Belt
, you'd be wrong. Not
every
dive has a bad reputation.
What makes a dive, a dive?
A dive has character. Neon beer signs and local memorabilia adorn the walls.
You might find a pool table, dart board, and a few video lottery machines.
The bartender knows the regulars by name and they know what you drink.
Some dives don't even serve food except for bags of chips and pickled eggs that sit in a jar of brine on the bar.
Dives aren't fancy. You might see 70's-style wood panels on the walls and wobbly tables leveled with a folded napkin.
Finally, the bathrooms. The bathrooms in dives are in a class by themselves and could be a whole topic on its own.
There are several small-town dives in our area with friendly faces, cheap booze with a burn, and even really good food! We use the term "dive" in the most affectionate way.
Here are some of the best and why you should go there.
11 Things You'll Only Understand After Living in South Dakota
From soda to pop to sloppy Joes, different parts of of the country have their own local quirks and language. Simple phrases can have totally different means, local events may seem weird, and food may go by a unique name.
If you're new to South Dakota here is a sort of translation guide for some odd things you may see or hear.