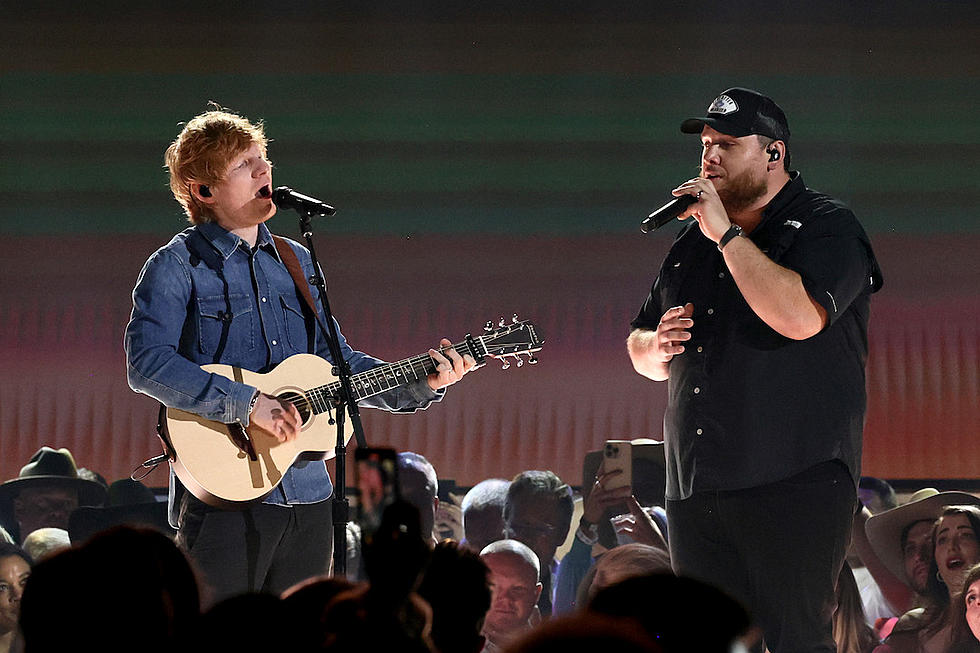 Ed Sheeran Brings 'Life Goes On' to the 2023 ACMs, With an Assist From Luke Combs
Theo Wargo, Getty Images
Pop superstar Ed Sheeran made his ACM Awards stage debut on Thursday night (May 11) with a powerful performance of his ballad, "Life Goes On." Sheeran's song got an unforgettable country twist, thanks to a surprise appearance from country superstar Luke Combs, who took the stage to sing one of his own songs right beforehand.
At the top of the performance, Sheeran appeared dressed in a blue buttoned down shirt. He crooned the lyrics of the first verse while strumming on an acoustic guitar. Unbeknownst to fans inside the Ford Center in Frisco, Texas, Combs was scheduled to share the stage with Sheeran. And, he did just that, taking lead on the second verse of the dreamy ballad.
"But I miss the things that needed reason / Oh, I remember the way that you've looked at me first / And all the heart that you changed / But you'll never know just like tears in the rain / Mm, mm, mm," Combs belted out, flaunting his gravel vocals for all to hear. "The constant grey in the clouds / When I hear your name / I think of love / So tell me how / How our life goes on with you gone / I suppose I sink like a stone / If you leave me now / All the stumps will roll / Easy come, hard go / Then life goes on."
Afterward, both superstars joined their vocals in beautiful harmony to finish off the song.
"How did you guys get together?" ACMs co-host Garth Brooks asked Combs and Sheeran after the performance.
"We met, like 2018. I heard Luke's music through a friend, and then I posted something online and we sort of got in touch and performed together. And, yeah. We've just been friends for like five years now. So it's been great," Sheeran answered.
"Life Goes On" comes off of Sheeran's latest album, Subtract, which came out just days before the 2023 ACMs.
Leading up to his appearance on the awards show, Sheeran told Billboard that he often feels tempted to make a larger foray into the country genre. "I talk about this to my wife all the time. I would love to transition into country," he said. "I love the culture of it, I just love the songwriting. It's just, like, brilliant songs."
He's not just whistling Dixie. In addition to two stints of living in Nashville in the 2010s, Sheeran has formed a friendship with Luke Combs, and the pair even performed a rendition of Sheeran's hit, "Dive," in London at the Country 2 Country (C2C) Festival last year. Sheeran also rubbed elbows with another famous country Luke -- Luke Bryan -- when he was a guest judge on American Idol during an episode when Katy Perry and Lionel Richie were both across the pond to perform the Coronation concert for King Charles' coronation earlier this month.
The 2023 ACM Awards are taking place at Frisco, Texas' Ford Center and streaming live on Amazon Prime Video. Dolly Parton and Garth Brooks are co-hosting the event, marking Brooks' first time ever hosting a major country music awards show.
Country Stars Step Out On the Red Carpet at the 2023 ACM Awards
See Dolly Parton, Jelly Roll, Ashley McBryde and more stars walk the red carpet ahead of the 2023 ACM Awards.