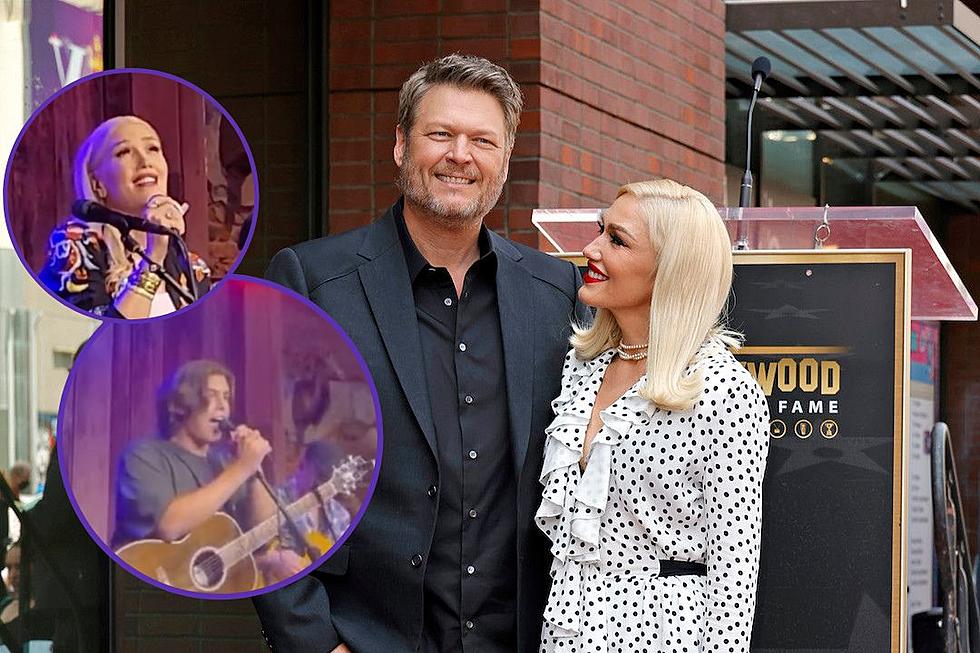 Gwen Stefani's Son Kingston Makes His Performance Debut at Blake Shelton's Bar [Watch]
Frazer Harrison, Getty Images/Twitter
Fans called it: Gwen Stefani was Blake Shelton's star guest at the free pop-up show he played at the Tishomingo, Okla. location of his Ole Red bar and music video on Friday night (Aug. 11.)
But that's not all. It was a special night for the whole family, as the oldest of Stefani's three sons -- 17-year-old Kingston -- made his debut performance from the Ole Red stage.
Prior to Friday night, Shelton announced that he'd be bringing a new artist to the stage after his own acoustic set, but he didn't share details until Kingston walked out. Though it was his first-ever performance, the young musician didn't show many nerves: He worked his way through a set of grungy, rock-leaning songs as the audience cheered him on.
At the end of his set, Shelton pulled Kingston in for a hug before he left the stage, then returned to the microphone. "I mean, I'm not gonna let him close the show. I'm still in competition mode a little bit," Shelton joked, grabbing his guitar once more. "I was trying to think, like, 'How do you follow that?'"
"With Gwen!" someone in the crowd shouted back.
"...I was thinking I could do something like this right here -- and I can't even sing this song very good, but I'll try," Shelton. continued, before playing the first notes of the mid-'90s No Doubt classic, "Don't Speak."
Of course, Shelton didn't have to sing the lyrics of the song. His pop superstar wife, the former front woman of No Doubt, emerged from side stage to sing it for him, coming over to give Shelton a hug from behind. "It's Gwen Stefani!" Shelton shouted.
Shelton has been prioritizing family time since he retired from The Voice -- the show where he and Stefani first met back in 2014 -- after the show's 23rd season. At the time, he said that Stefani's three sons were a big part of his decision to scale down his career commitments, explaining that his new role as step-dad has given him fresh perspective on what's important.
"Having kids, it truly does make you go, 'Oh whoa, wait a minute. This isn't about me anymore and never will be again,'" he explained in late 2022. "If you don't say that yourself, I think you're only hurting yourself because you're going to miss out."
Blake Shelton + Gwen Stefani: A Timeline of Their Love
From an unlikely, cross-genre pairing to one of country music's hottest "it" couples, Blake Shelton and Gwen Stefani have been on quite the journey together since they first met back in 2014 on the set of The Voice. Here is a look back at their fairy tale love story in pictures.