Toby Keith's Son Makes Youth All-American Bowl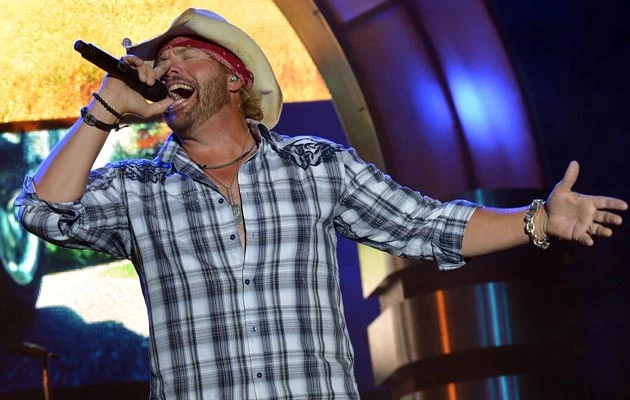 Toby Keith sure has something to be proud of. The singer's 15-year-old son, Stelen Keith Covel, was recently named to the 2013 Eastbay Youth All-American Bowl.
The fifth-annual football game will take place on Jan. 6 at the Alamodome in San Antonio, Texas, just prior to the U.S. Army All-American Game.
The younger Covel is currently a sophomore at Norman North High School and a starting defensive lineman on his football team — and he clearly takes after his farther's burly physique. Stelen stands at 6 feet tall and weighs in at 230 pounds. Three other Oklahoma high school freshman football players also earned spots in the Eastbay Youth All-American Bowl.
The country music star should be proud of his kiddo, but it seems he may not be surprised — he was singing about his son becoming football player when Stelen was still a toddler. On his 1999 album 'How Do You Like Me Now,' Keith wrote a song dedicated to his son, titled 'Heart to Heart (Stelen's Song),' which included the lyrics: "He'll grow to be six foot three / Yeah he's gonna be just like me / He'll be tall and play football / But he'll always be a momma's boy."
It seems a father always knows…
Source:
Toby Keith's Son Makes Youth All-American Bowl